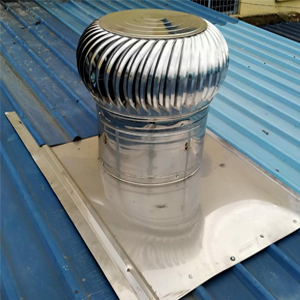 High-Performance Roof Air Ventilators
By Ambica
Ambica Industries understands the importance of roof air ventilation and provides top-of-the-line products that are designed to improve air quality and reduce energy costs. A well-ventilator is crucial for a comfortable working environment. People have long realized the significance of air ventilation. Also, technological advancements have expanded the options for air ventilation systems. That made the ventilators a better and more sustainable option. Rooftop Ventilators have a rotating top that moves continuously by the wind or by the hot air flowing up through it. which provides energy-free cooling and fresh air in the building. The roof Air Ventilators work on an unlimited source of energy. which means that it does not require any power or electricity to operate.
Our Roof Air Ventilator:
Ambica's rooftop ventilators are a good choice for ventilation. They are light and have smooth functioning, so you can use them in different buildings. Our ventilators are based on the latest trends in technology, which means that they are effective while working. and keeps the temperature in the building cool From small to large working places. We manufacture roof ventilators for all, making them ideal for homes, offices, and factories. Plus, they are easy on the pocket. Well, that's a bonus, from us to our community.
Why opt for Turbo Air Ventilators?
Dislike Performance: Turbo air ventilators are used to make a continuous flow of fresh air. In addition, they use the power of the air and natural sources. Therefore, say bye to dry air and welcome pure air.
Electricity workability: Turbo Air Ventilators help you for useful ventilation without having to pay large electricity bills. Moreover, these good appliances work only with air energy. Furthermore, it strongly decreases your carbon levels, and saves money.
Sound free Actions: Enjoy peace in your room thanks to Turbo Air Ventilators' sound free actions. No matter where you are—at work, school, or home—you may enjoy silent surroundings free from disturbing sounds.
Durability and Reliability: The use of high-quality parts in the making of Turbo Air Ventilators provides their long-lasting life. Furthermore, they are generally planned to fight different weather situations. Then giving good performances besides less needs over more time.
Easy to start: Our Turbo Air Ventilators do not need difficult electrical wiring. Again making them easy to install. Furthermore, In little time, you will get better ventilation! Use Ambica Turbo Air Ventilators to take in air Easily! Ambica Turbo Air Ventilators will make the quality of your air better, use less power, and give long-lasting results. Call right away to take help of this suggestion and know what makes Ambica Turbo Air Ventilators different. Today, take a deep breath and applaud the healthier setting!
Roof Air ventilators serve best in both seasons. In summer the temperatures can exceed 160 F. which reduces the life of your roofs due to the excessive heat. And eventually penetrates the living space of your home. And in winter, activities that contain water can cause moisture. which then collects on the roof and form's a water droplet, hence causing damage to your roof. Our Roof Air ventilators also keep the temperature consistent. so that if you are working in a cold area you don't have to worry about ice forming on the roof Moreover, we manufacture noiseless ventilators that smoothly exchange air from inside to outside. And we are always ready to provide maintenance and installation.
A few of the benefits of our Roof air Ventilator:
- High-level Air ventilation
- Reduces energy costs
- Provides an easy environment
- Long-term stability
- Easy To Install and Maintain

Don't take our word for it - here's what our community has to say for us: Finally, it's crucial to have well-ventilated buildings.
How to Choose a Roof Air Ventilator
When deciding, state the size of your building, how's the weather in your area, and only your budget. At Ambica, we have lots of options to pick from, so you can get the best roof air ventilator for you.
Ambica Industries
Ambica Industries is a recognized name in the ventilator segment, with hundreds of installations across diverse industries. We are the exporters, manufacturers, and suppliers of roof air ventilators from vadodara, gujarat(india) Experience the benefits of our Aluminium Air Ventilator for yourself. Contact us today to learn more.
Product Features :
Type : Aluminium
Place of Origin : India
Usage : Ventilation
Material : Aluminium
Brand : AI
Turbo Vent Diameter : 24"
Automation : Manual
FAQs:
Our Roof Air Ventilators are light and friction free which makes them spin in low wind pressure as well. So if your roof is lower than others no issue we got you covered.
Apart from being the best sustainable option available out there, the buyers can also depreciate 80% from income tax under section 32. Roof Air ventilators are made to provide effective ventilation. It removes hot air and steam from spaces.
Roof Air ventilators are to be installed at the highest point of your building. To get the most out of the ventilator it has to be fully exposed to the wind. Contacting ventilation experts and considering the needs. It is important for making the most effective use of roof air ventilators.
No, Our team of experts and easy to install roof air ventilator ensure that there is no leakage of any kind in the roof. If anything like this occurs,you can contact our team.
Roof air ventilators generally just need little upkeep. Regular checks to make sure the blades are spinning freely and cleaning the device of any collected dust or debris are advised.